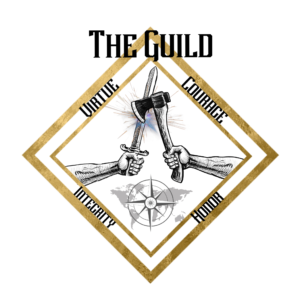 Welcome to The Warriors' Guild
I'm not sure how you found yourself here, but you are taking the first step in joining a movement among men from all over the world, who are desiring to become the men God created each of us to be. 
So why is it called The Warriors' Guild? No, it's not because we have an obsession with medieval things, even though the idea of wearing chainmail and swinging a big sword is kinda awesome. We incorporated the word Warriors because as men, we are warriors whether you feel like one or not. It doesn't matter if you're a Navy Seal, or a nurse, a lumberjack, or a poet, as men we fight battles every day. Battles against our flesh and our own selfish desires that will cripple any man, no matter how physically strong or weak that you, or the world, may perceive you to be. And the word Guild? Well, if you look up the word guild in the dictionary, it's defined as "an association of people with similar interest or pursuits," and that's exactly what you'll be joining with The Warriors' Guild. You'll be joining in with men from all over the world who have a singular interest and pursuit.
Becoming The Man God Made You To Be!
So our goal is to equip you to become that type of man. A man who is striving daily to become a better husband, a better father, and a better leader in their community, workplace, or on their college campus. Men who are equipped to make the type of impact on society that society needs.
Some of the ways we are already equipping men is by providing training and skill development courses that focus on both life skills and spiritual skills and it all starts with our Guild 101 training. This training focuses on the importance of building a band of brothers, which is key in growing and maturing into the man God wants you to be.
We also believe in the power of helping men to become engaged in missions on a local, national, and global scale in order to make a difference in the world. So many men go through life with no real purpose, and it shows! All men need purpose in their lives. All men need to feel useful in society. So we strive to help men engage with the needs of others by using their time, talents, and treasures to make a real impact in the world.
So that's who we are!  That's what we do!  Want to join us? Great! There are several things you can do. First, join The Warriors' Guild Facebook Group by clicking on The Warriors' Guild logo above. Doing so will connect you with men from all over the world in one central location who, like you, are desiring to become better men. Second, text the word
warrior 
to 828-307-0007. This will add you to The Warriors' Guild texting service where you will get up-to-date and immediate information on everything regarding The Warriors' Guild, including information on podcast interviews, new blog articles, missions opportunities, training/skill development courses, discounts on Guild merchandise, and more.
So what are you waiting for? Join The Warriors' Guild today and join other men in becoming who God created you to be!
Hey everybody, my name is Matt Keller and I am the founder and CEO of Resist Movement, Inc., The Warriors' Guild, and host of The Warrior Podcast. 
I started Resist back in 2019 with the purpose of helping men to become the husbands, fathers, and leaders in our churches, communities, and college campuses that God created us to be. 
Society is filled with men who are just wondering through life with no purpose, men who are barely getting by day after day. Men who struggle to overcome addictions, identity issues, and their very own pride. Men, who grew up without fathers to teach them many of the valuable life skills needed in society. I've been one or more of those tyes of men, and in many ways, I still am. So, my heartfelt desire for this organization is that we can offer something here that will help you grow in your relationship with Christ, something that will help you grow as a man, and if applicable, something that will help you grow as a husband and father.
But understand this. I'm on this journey with you! Because I have far from figured it all out. I'm just a guy that believes God has called him to help other men become everything they were meant to be, and along the way, I truly pray that I'm able to grow right along with you. 
So join me in this movement among men, as we strive to change the world, one man at a time!
– We HONOR Jesus Christ in everything we do!
– We DEVELOP men spiritually!
– We EMPOWER those around us!
– We CONTRIBUTE positively to men's mental, emotional, psychological, and physical well being!
– We HELP those in our communities who are in need!
– We LIVE out our Mission Statement!
OUR MISSION
Our organization exists to strengthen men so that they can resist temptation by creating community where discipleship is cultivated and men are able to grow stronger in their spiritual, mental, and physical health in order to reach their fullness in Christ.
God
God is the Creator and Ruler of the universe and exists eternally as three co-equal persons: The Father, the Son, and the Holy Spirit. He is all-powerful, all-knowing, ever-present, never-changing, completely trustworthy, and holy. His very essence is good. He is our loving Father who is faithful to his people and his promises.
The Trinity
God exists as one being in three persons: the Father, the Son and the Holy Spirit. Although each member of the Trinity serves different functions, they each possess equal power and authority.
Eternity
We were created to exist forever, with "forever" being spent in one of two places: heaven or hell. Spending eternity in heaven means being in perfect union with God, while an eternity in hell means being forever separated from God.
Jesus Christ
Jesus Christ is the Son of God. He lived a completely sinless human life, and is the only person to be completely human and also completely God. He was crucified on a cross, dying in our place for our sins so that we may be reconciled with God. After three days he rose from the dead to demonstrate His power over sin and death. He ascended to heaven and will return again to reign as King of Kings.
The Bible
The Bible is God's holy written word. It was written by human authors under the supernatural guidance of the Holy Spirit. It is the ultimate source of truth for Christians, giving testimonies of God's character, stories of Jesus Christ's life and ministry, as well as instruction and wisdom for daily life.
Salvation
Salvation comes as a result of believing that Jesus Christ is the Son of God who was crucified, died, and rose from the dead as a sufficient payment for the sins of man. Salvation is a free gift from God to all, and cannot be earned through our own efforts. It is only by trusting in Jesus Christ that we can be saved from an eternal separation from God. Eternal life begins the moment you receive Jesus Christ into your life through faith.
The Holy Spirit
The Holy Spirit is the third person of the Trinity and is equal with the Father and the Son as God. He lives in every believer from the moment of salvation and provides the Christian with understanding of spiritual truth and guidance in doing what is right. The Holy Spirit's presence assures us of our relationship with Christ. He guides believers into all truth and convicts people of their sin. He comforts us, gives us spiritual gifts, and makes us more like Christ.
Humanity
Humankind was made in the image of God, created to be in a perfect relationship with him. We became alienated from him through our own disobedience, which the Bible calls sin. We are incapable of regaining a right relationship with God through our own efforts, which is why God sent his Son Jesus to take the penalty for our sin so that we may be reconciled with God.
The Church
The Church is made up of a community of believers who are unified through faith in Jesus Christ. The Church is committed to the teachings of Jesus Christ, which are found in the Bible. Members of the Church seek to share the hope of Christ to the world through love, good deeds, and the message of the Gospel.
or text warrior to 828-307-0007
Subscribe to The Warrior Podcast by clicking on your favorite podcasting platform above. If you're on Apple Podcast, please leave a rating and review and if you're on Spotify, tap the bell icon to be notified of new episodes.